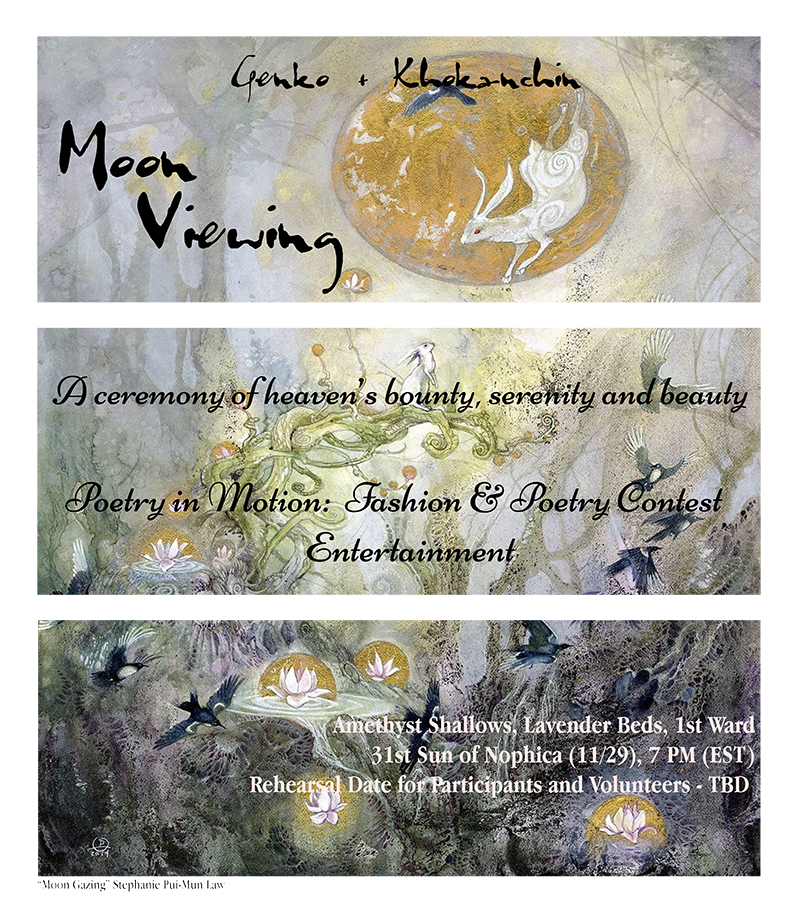 (DEADLINE FOR ENTERING CONTEST 11/24)
Otsukimi
refers to the celebration of honoring the autumn moon. Aristocrats would gather to recite poetry under the full moon, usually on boats or by the waterside to observe the moon's reflection. While observing her beauty, It is also traditionally a ceremony of thankfulness for the heaven's bounty and hope for a good harvest, and even when the moon is not shining bright over the proceedings, the ceremony still takes place.
We will be celebrating the heaven's bounty in a night of appreciation of her serenity and beauty. As the moon inspires such virtues, so shall we revel...
Opening Ceremony

__________________________
The celebration will open with prayers, thanking the heavens for their bounty and prayers for a good harvest for the next year.
Entertainment & Food

_________________________
Throughout the event we will have entertainers to charm and delight. Vendors may also choose to cater to this event, serving sake and sweet rice treats for revelers or other offerings for the occasion.
Poetry in Motion: Fashion & Poetry Contest

________________________________________________
Take a poem and breathe life into it through the soft billows of fabric and the shimmer of bead-work...
Designers may pair with a poet or they may make a poem themselves and from that poem they design a creation to match.
Poems and designs will be judged together based on composition (of the poem and the design) and how well the poem and creation match each other.
The contest's theme shall be 'Under the Veil of Night.' This is to keep the subject matter broad for the designers and their poems, the subject can be about anything from nature, emotion, or imagination that uses imagery relating to the night.
Poems will be written in the genre known as
tanka
, as is the popular custom for Moon Viewing celebrations.
Tanka consists of five lines, following the pattern of
5-7-5-7-7
for how many syllables for each line.
Example:
In gray silk brocade, (
5 syllables
)
The moon eagerly lingers (
7 syllables
)
Straining to listen (
5 syllables
)
To the revelry below (
7 syllables
)
The first notes of heart's desire. (
7 syllables
)
The contest will consist of the poet reading their work, the model walking the design for all to see, and the designer then speaking on their creation and the inspiration behind its details.
The top three winners will have their poem and design published in
The Crystal Chronicle
, along with
500,000 gil to first place, 250,000 to second and 100,000 to third.
The first place winner will also get to design a costume for the Genko Chaya's upcoming play!
If you are interested in volunteering for the opening ceremony, entertainment, vendor or entering the competition please post your intent in the topic or feel free to contact
Llinos Silvernail (Discord: Llinos#2108 )
or
Kuzhuk Anchin (Discord: Wemrys#7268)
.