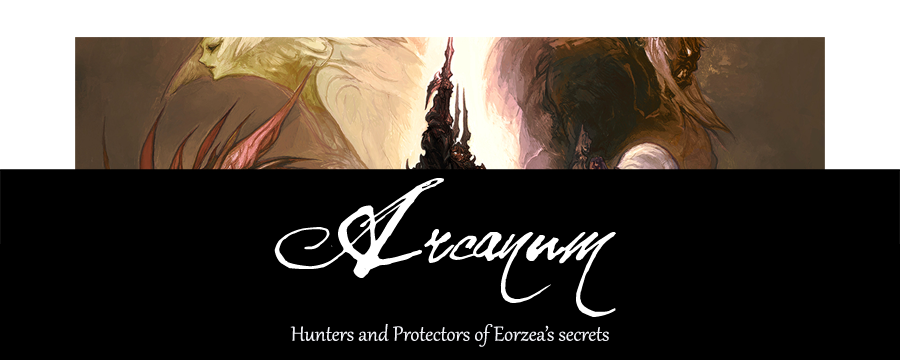 There are many reasons the sentient races of Eorzea would bury and hide their secrets. For some it is merely the urge to covet or preserve their artifacts for greed or for future generations, but for some it is a tale much more grim. When you are faced with a force so destructive and powerful that the only option left open to you is to lock the power away... that's where Arcanum comes in.
Secrets and destructive forces do not stay buried forever, sure as the sun they will rise again, it is the duty of Arcanum to collect and safeguard dangerous relics from falling into the hands of people that would abuse them.
When not engaged in their primary objective Arcanum treasure hunts for treasuring huntings sake. For the adventure, the thrill, and the gil it brings into the group.
Though nothing is ever as simple as that, strange adventures await those in Arcanum, adventurers at heart, their comradery will prevail.
༜ ༜ ༜
((This is the OOC linkshell for Arcanum, a full RP company with interest in high flying adventure, treasure hunting and comradery. We're interested in making friends across the server, running RP events for ourselves and the community as well as running dungeons and all round having a good time.

If you are interested in joining the LS please let an officer know. Entrance to the Free Company itself will require an IC interview. There is the option to utilize our website for applications but it is not required. A link will be provided below.
Officers:
Zolanda Creed (Skype @Fruxicus)
Raurimont Nix

As we are currently looking for alliances on Gilgamesh server interested leaders of other free companies are welcome to join. ))
༜ ༜ ༜
*props go to Myranda for creating and supplying the Eorzean text. The image can be found at the Fansitekit! And thanks to Illith Lith for providing some of the images! <3*