See any previously uploaded images that aren't associated with your account? Please report the image or notify our staff in Requests and Feedback with a link to the image[s] and we can get them re-assigned to you!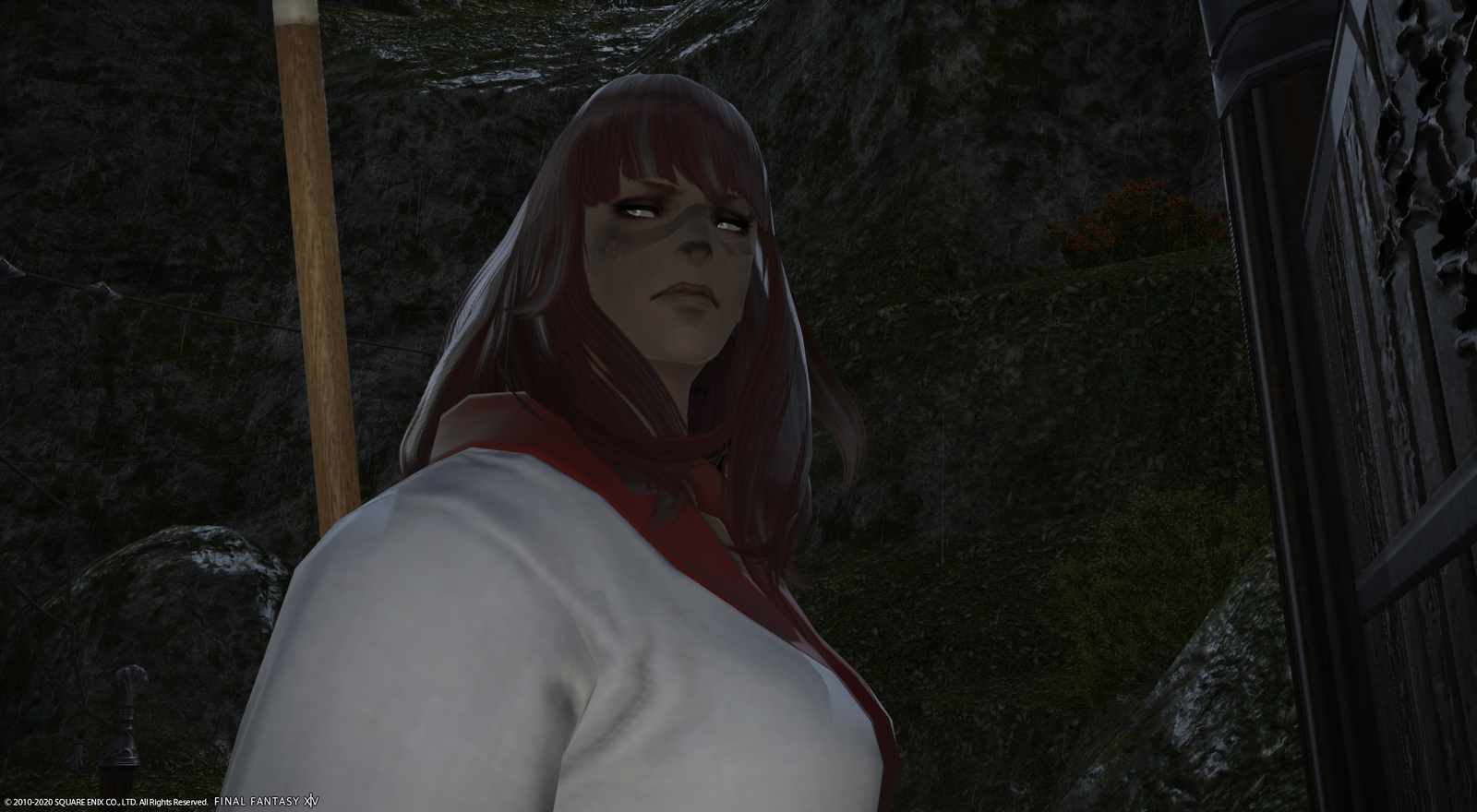 Ogeshna was the oldest of five children with the second oldest being eight years younger than herself. Raised in a nomadic family of hunters she was often charged with looking after her siblings and other small children who traveled with their caravan. 
When the Garleans began their incursion into Eorzea Ogeshna's normally reclusive family sent her to aid the Eorzean Alliance as their representative and champion. 
Ogeshna tried her best to aid and protect her brothers and sisters in arms. Those she served under made good use of her preference for the bowstaff and her size which gave her considerable reach. 
Ogeshna was selfless, which was good, but she was also fearless when it came to herself which was a potential problem. This was offset by one of her comrades, a Lalafell thaumaturge named Baboba. The two worked very well together and learned from one another during their campaigns. 
During The Battle of Carteneau Ogeshna saw many who served with her lose their lives and despite her best efforts she was only able to protect three out of the eighteen company members before being knocked into a coma. Baboba, who she was separated from, was saved by an adventurer who sacrificed all to save him. 
As with many Eorzeans this experience, along with the unfathomable salvation and restoration  of the realm, changed Ogeshna and Baboba forever. Ogeshna woke up years later and while many had been through their healing process and moved on she was only just beginning to process what had happened. 
Baboba took up conjuration in his home city of New Gridania with his daughter, Mindula, and where his friend Ogeshna was being cared for. Seeing so many suffer and not be able to mend them left a lasting impression on him and he vowed that would never happen again.  
When Ogeshna awoke she knew that strength had left her and believed her time as a warrior had come and gone. This depression was augmented by the revelation that her family did not survive The Calamity. With her people and their way of life gone she lacked focus, direction and the drive to move forward, except for not wanting to let Baboba down again.
In Mindula's heartfelt dreams of becoming an adventurer who helps and heals those in need, like her father, Ogeshna saw something of her younger self. She began watching over the academically determined Lalafell during her outings and handing down whatever advice she felt might be helpful. 
By offering company, guidance and venturing out into the world again Ogeshna's long road to recovery had finally begun.